So you are a B2b marketer and want to advertise on LinkedIn? If so, you've come to the right place.
I've seen a lot of success using LinkedIn advertising and I'll share with you the tips and tricks that I've seen work. I work in B2B marketing and know my targeted audience well. I know the ideal company size, the industry and the title of the prospect that I want to get my ads in front of. If you know this information too then perfect! LinkedIn is the perfect place to set up shop. The only bad thing is they cost of conversion can be a little higher than other channels. The trick is to find what works for your company and run with it and that's where I can help.
Setup Conversions
In order for LinkedIn to work properly with lead generation, you'll need to define a conversion. I always setup a confirmation page to direct traffic to once they complete a form. This destination URL is specified within LinkedIn .
Here are my settings.

I will also use site-wide Insight Tag and count conversions that visit a specified page, usually a "thank-you" page.
Once this is setup and verified that it is firing. Now you can move on to setting up the ads.
LINKEDIN CAMPAIGN MANGAGER
In order to keep things organized within you account, you'll want to start with creating a campaign group. This can be centered around specific campaigns that you are running, then each campaign will be nested within this group.
After your campaign group is setup, then go to "Create campaign".  Now the fun part.
LinkedIn Objectives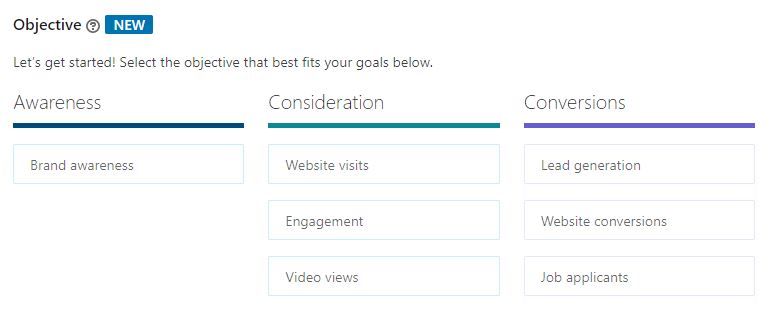 If you notice the layout, you can see it is setup like a marketing funnel with Awareness at the top and Conversions being at the bottom of the funnel. (Tilt your head to the left).
For this example, let's pick Website conversions. This will make sure the ads are shown to people most likely to take the actions you define as valuable for your business. If you were to pick "Lead generation" you would have to setup a lead gen form. Let me know if you're interested in doing so and I'll create a blog post about it.
Audience Selection
You should know a little about your targeted audience by now. If not, you need to build out personas first and then come back to this. I'll go through how I segment audiences based on my targeted audience.
First, I want them in the United States only. Make sure you select "Permanent location".

Next, I want to narrow my audience further and select "Audience attributes", then "Company"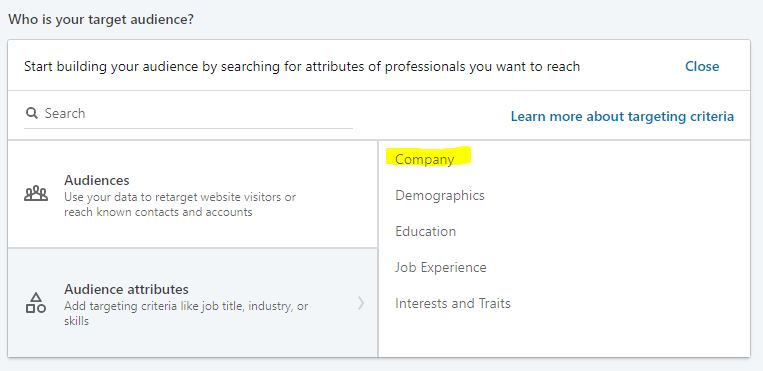 Here you will be able to drill down on company industry and company size.
I want to select companies that are in the Computer Software industry.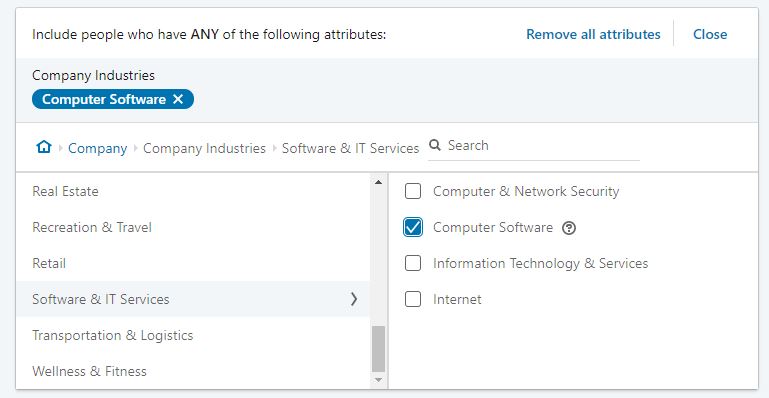 Now, select "Narrow" audience further.  Click Audience attributes again, then Company and then select the company size. For this audience, I want 51-5000 employees.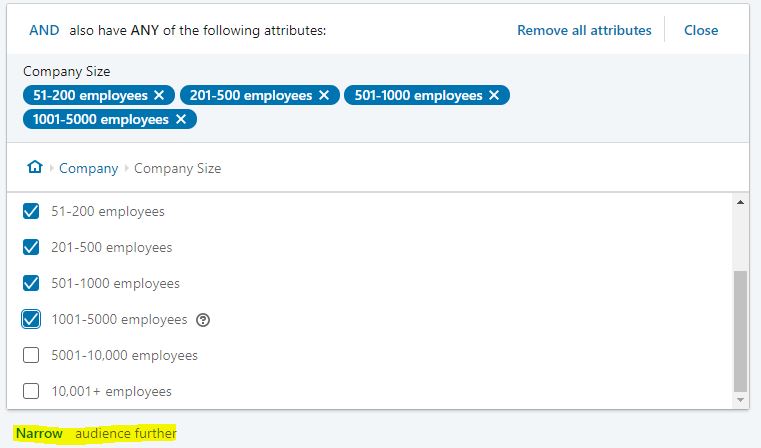 We now have the company industry and size selected, let's narrow the audience further to select what job title to target.  Click "Narrow" audience further and then Audience attributes, and then Job Experience and then Job Titles.
For the LinkedIn advertising campaign, I want to show ads to decision makers only. So I will select CEO, Founder, Owner and President.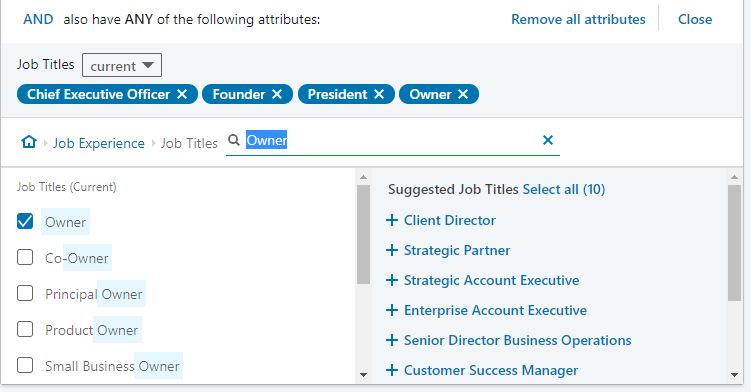 Great! We have the audience setup.
I always de-select "Enable Audience Expansion". Just because I only want to target the specified audience and this feature allows you to reach people who are similar to your target audience, based on attributes like job titles, companies, or skills.
Ad Format
The Ad format I like to use is a Single Image Ad. This will show your LinkedIn ad in your targeted audience's news feed.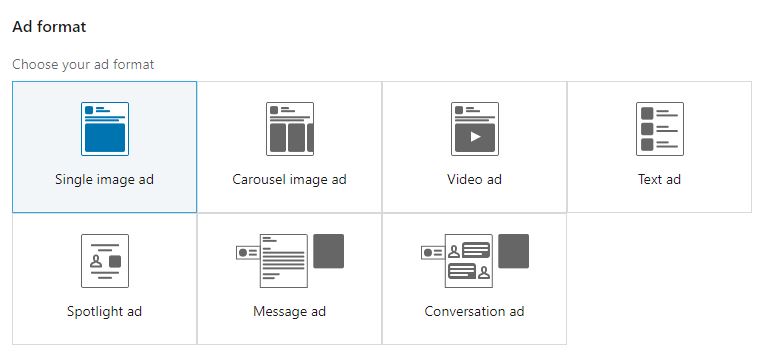 LinkedIn Audience Network
I always disable this as well. I feel like LinkedIn partner apps and websites may be more prone to click fraud.

Budget
This is where you need to be careful. You need to have a budget in mind before you go into this and you'll need to check your ad every 3 days and adjust as needed. Also have in mind how much you're willing to pay for each conversion, this will help when you're measuring success.  I will usually run ads for three days and have about a $250 a day budget to start with.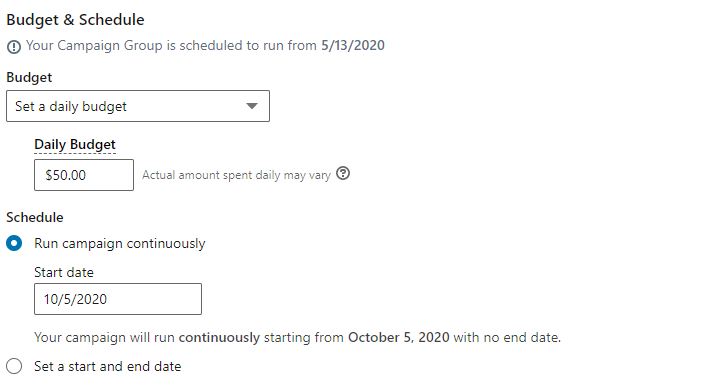 Bid Type
I select Enhanced CPC bid. This will adjust your bid amount based on how likely the prospect is to convert. Make sure and select "Enable conversion optimization" and then in the Bid Amount box, enter in the minimum that other advertisers are spending. So in the image below, erase 22.85 from the Bid Amount and enter in 17.62.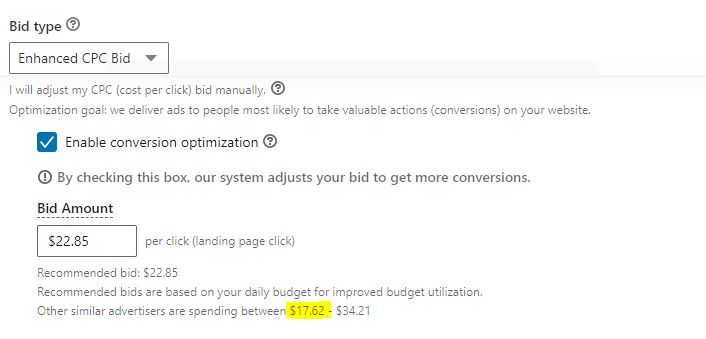 Conversion Tracking
Here you'll click "add conversions" and then select the conversion you setup earlier. Make sure it is receiving signals before you move forward!

Details on Targeted Audience
Here are the forecasted results on what to expect when running ads to this targeted audience. Not too bad.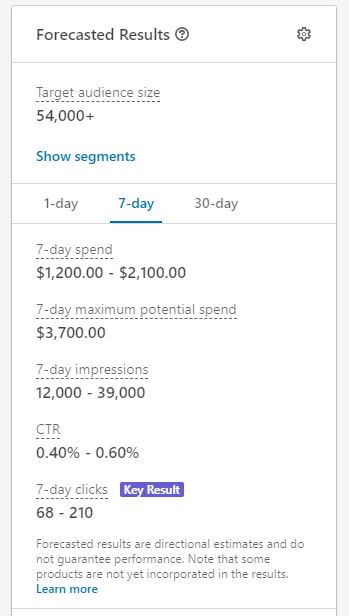 Once you get done here, click next and then you'll be able to create a new LinkedIn ad or Sponsor an existing post.
If you'd like more details on how to setup these LinkedIn campaigns, how to measure success and how to increase the amount of MQLs in your pipeline, feel free to reach out to me. I'd be more than happy to help!
Reach out for help with advertising on LinkedIn!